Start each day with a grateful heart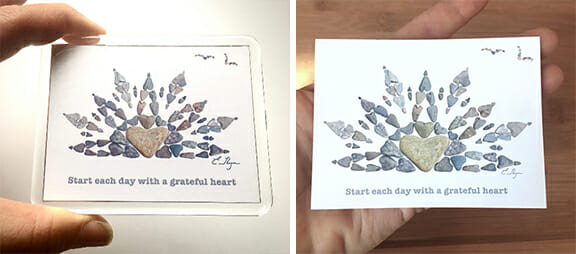 Within the past month, I've had two different requests to expand this design into more products besides the note card and matted print.  Not only have I loved seeing it produced as a magnet and a sticker, but I'm thrilled to find others who realize the power in having an attitude of gratitude and are spreading the word by gifting these to many others (100 stickers in one sale)!
I have absolutely come to learn that the more grateful we are in life, the more wonderful things come into our lives to be grateful for and the things that make us sad or depressed are virtually non-existent.  What goes around truly comes around!
As we enter a new year, why not give it a try?  From your very first waking moment to when you say "goodnight" to the day, give thanks for as many things as you can…even simple things such as a good cup of coffee, a roof over your head, or an act of kindness given or received (I'm known for thanking green lights when I'm short on time!).
I'm here to tell you it will be a Happy New Year indeed.
Lots of love,
Ellen
p.s. I'm grateful for you reading this. :' )